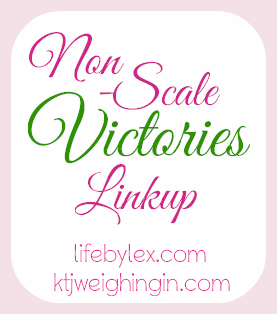 It's Thursday and time for reflecting on the last week and all healthy things Non-Scale related!
My list this week is short - not because I had a bad week, but because I only did a few "new" things this week.
1) Even though this can wait for next week's 5K challenge (and truth be told, I might mention it again...a few times...), I'm super excited so I have to report it anyway: I wogged for 4mins straight on the treadmill on Monday and THEN on Tuesday, I wogged for almost a FULL 1/2 mile outside on the soccer field!!
2) On Monday, I also drove through sleet, icy roads, and numerous accidents to get to the gym - what's that old post office creed??
Neither snow nor rain nor heat nor gloom of night...okay, maybe not gloom of night - I'm a huge chicken.
3) This week I also attempted to eat fruit with every meal or tried to eat at least 3 fruits a day. It wasn't as hard as I thought it would be. I'm going to try to continue this.
4) I'm one of those people who just doesn't think about drinking water...I actually don't think about drinking anything (except my beloved latte in the morning - Sweet Joseph, how I love thee...), so it takes effort to drink enough of anything, let alone water. I've gotten so much better over the last year and a half, and I always drink at least eight 8oz glasses, but this week I tried to up my water to 12 and even some days I got up to 14. When I first started my journey, I set a calendar reminder to pop up at work to tell me to drink water...I can't tell you how much that helped! I've also been blessed with the tiniest bladder known to man, so all this water has me running to the bathroom at least twice an hour. Extra steps during the day! I actually have to stop drinking water by 2:30pm & use the restroom right before I walk out the door, just to be able to make it home without breaking out in the pee sweats...you know what I'm talking about...when you have to go so bad, you start sweating? Yah, that's me. The great thing about trying to get enough water is that I rarely have any type of drink that isn't water, again except for my latte...have I mentioned how much I heart that latte? I swear to you that sometimes I kiss my cup.
Be sure to tell me what your NSV's were this week! Remember, it's not all about the scale.