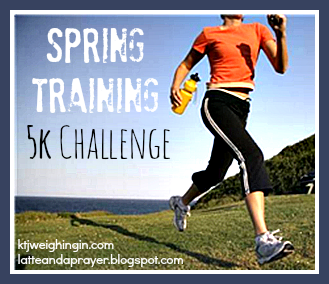 Hello! I want to preface this post by saying that I have been SO super busy the last week and I feel like I'm not devoting enough time to either of my blogs and I just hate that. One of the things that I LOVE about blogging is the connection I feel with my fellow bloggers, and new friends that I've made along the way during this journey. I wish that I had a gazillion dollars so that I could stay home and devote the kind of time I'd like to to all of you and my blogs! My apologies for not keeping up with your blogs the past week, I promise that I'll head over and get caught up! You mean so much to me so I wanted you to know!
Okay, on to the 5K Challenge - this week, again SO busy, I didn't get much outside running time. For soccer practice with the kids, we do run, but the field we use is awful - full of ruts, holes, huge grass mounds...I don't feel confident at all running on it, especially because I'm clumsy enough on flat ground. Also, we have had such cold ass weather AND 30-40mph winds, it didn't make for the best running conditions. Have you ever tried to run into the wind when it's howling like that?? It's hard enough for me to breathe when I'm running, and then add hurricane force winds on top of it! Okay, I exaggerate, but still....So, I did what I could.
However, on Sunday I was at the gym and even though my outside time was limited, I moved on to Week 4 of C25K anyway; I was feeling confident enough to at least TRY it and guess what? I'm pretty damn amazing on the 'ole treadmill, lol. I laugh because seriously, I'm not, but hey in my mind, I'm ahhiight. Week 4's schedule of C25K is this: 5 minute walking warm up / Jog for 3 mins / Walk 90 secs / Jog FIVE MINUTES / Walk 2.5mins / Jog 3 mins / Walk 90 secs / Jog FIVE MINUTES / 5 minute cool down. So yah, huge pat on the back, I wogged for BOTH 5 minute sessions and I even added a SPRINT (cough...cough...4.7mph while hanging on for dear life) in at the end, just for fun.
You know what's happening with this whole "running thing"? Brace yourself...I'm starting to see what all the hype is about. Nowwww, if I could get the running outside confidence that I truly need, that will be the next test. But the treadmill? I own that bitch.
On another note, if you aren't already following my recipe blog A Healthy Makeover, head on over and follow me! I try to post at least 2 recipes a week; hope you get to try some!
Here's my recipe from today: