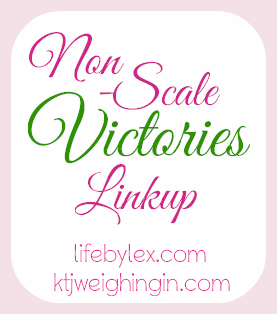 I'm not quite sure why I "yelled" that since I actually don't have many to share this week?? But I do get really excited to share the little victories from my week. It helps ME to remember that it's not all about the scale.
My biggest NSV from this past week is continuing to use my C25K app on my phone. I'm truly trying to push myself to see if I can actually DO this running thing. I'm even "signed" up for a virtual 5K with my blog buddies hosted by Katie and Kim - check out my button over there on my sidebar. We're all going to train to do our own 5K's - isn't that so fun?? So, with my short little stumpy legs, it's probably more like a combination of walking and jogging if you ask my longer-legged friends...I'll call it wogging. But for me, it's SOMETHING. You cannot understand my intense hatred for running up to this point. I think it stems from being on the Track team in HS. Yes, I am a hater of running but I did run track for most of my HS years. I started off running the 100m and then gave up running altogether after my 2nd year when I decided that I loved the long and triple jumping best. What I honestly didn't like was my coach. I feel a little bad saying this after ALL these years (we won't get into numbers), but she made practices horrible. She was mean and rude and condescending. If you weren't one of her star runners, she pretty much didn't have time for you. That sounds super whiny, but there's no animosity here, truly. It was a fact. Every day we were expected to run 8 miles to train. And even though I was not overweight in HS, I could not run 8 miles. I don't think I even tried to run 4 miles.
The craziest part of this little training program I'm doing is that it WORKS. I honestly never thought that after only 2 days of doing it that I'd be stronger, but I was!! And now that I'm on Week 2, I'm even stronger! I can run for 90 seconds every time that little lady on my phone tells me to.
So, now I'm on my way to becoming a faster wogger! It feels SOOO good to say that!
Hope you had some of your own great NSV's this week!