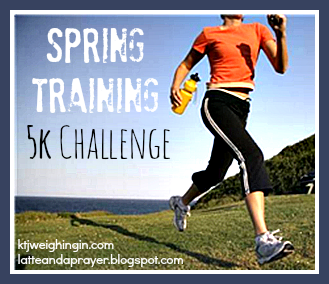 I did it! I finished Week 3 and I'm moving on to Week 4! You may recall that last week I was completely stressing about how HARD that extra 30 seconds is...well, I'm here to tell you that it got easier...SO much easier! And in Week 3, I had to run 3 minutes. The first time, it was hard...but I did it. I even got a little bit crazy and pushed myself on Day 2 to 3:30...and guess what? I didn't die; that's pretty cool, right??
I actually ran for FOUR minutes last night. I figured something out: you have to find a sweet spot. A speed in which you can sustain the longer period of time. That speed for me is 4mph...laugh, I know, it's slow...but it's 1mph faster than my fast-ish walk, so that's pretty significant, right? Short-stumpy legs, what can I say :)
I wasn't able to do any part of Week 3 outside, so I wonder if I can do the same thing off the treadmill; I'll have to see this week.
So, here's what I have to say to whomever is listening - this C25K thing? It works. I've heard from SOO many people that it does, but you really don't know until you do it yourself. If you're thinking about it, try it!