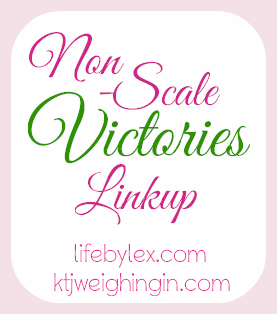 Hello lovelies!! It's NSV Thursday with
Katie
and
Ashlee
- let's celebrate all of our little victories that have absolutely
nothing
to do with the scale, shall we???
I'm back from vacation and what an amazing vacation it was!
Last year
at about this time I was so worried about going on vacation because it was my first vacation with family and I was nervous about keeping my momentum going. This is my first NSV for the week: I felt absolutely no worry about going this year. I am finally in control of so many things and not only did I look forward to it, I stayed in a great mindset the whole time. I ate great food, that I don't normally partake in, I enjoyed it and I hiked my arse off so that I didn't have to feel one ounce of guilt. We hiked over 20 miles and it was wonderful! My nephews and my Sister In Law were just as eager to get up those mountains and I even got Hubs to go one day. The day he went was our hardest hike of the week, heh heh...
3 pairs of workout shoes and one pair of flip flops!
#gottaplank
Every Night...
He didn't love it as much as I did ;)
Salamander!
My beautiful SIL!
Definitely got some relaxing in, too....
Me & the Hubs!
She's so proud of herself - #dork
My 2nd NSV is that we got home on Saturday night and on Sunday morning I laced up and headed out for a 4.5 mile run. I'm right back on schedule this week and haven't missed a beat! Annnnddd, tomorrow is my birthday :) The OLD me would have used vacation as her first excuse to fall off the wagon and then used this week as her birthday week to splurge and not care. NEW me knows that there are only so many days in the year that are worth splurging for. The 4 days leading up to your birthday are
not
those days.
What were YOUR NSVs this week? Think hard, I bet you've got a bunch!
Don't forget to check out this week's
Healthy Makeover
recipe:
Veggie Pasta with Healthy Pesto
Have a great week, everyone!