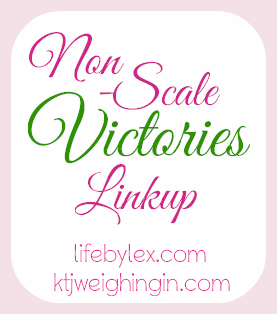 Happy NSV Thursday!
Wow, it has been so very busy the last two weeks and I'm feeling overwhelmed with how much is going on - I haven't even been able to keep up with my blog buddies, so please forgive me! I'm hoping I get a chance to catch up on them in the next few days but I have a busy but fun weekend ahead, too. A few obstacles that I'll have to be careful of: my dear friend's daughter's 16th birthday party, and another fun birthday party at our local race track which also features...dun dun dun...a buffet! My plan is to work my arse off in the morning so that I can partake in some goodies, but not go too off track that I feel guilty about it on Sunday...I'm going to go ahead and say that'll be an NSV in hopes that it'll help me stay accountable!
My biggest NSV for this week is actually one of the main reasons things have been so busy for me. In an effort to continue to step out of my comfort zone, challenge myself and get in some different workouts, I signed on to help my friend with her son's soccer team as her assistant conditioning coach...yeeks! Now, the reason it's a little bit scary for me is that I have not always been comfortable around kids. Hubby and I were not able to have our own, and we have nieces and nephews who we love and adore, but I don't have a lot of opportunities to spend time with kids in a social setting. And, to be honest, I'm not really not comfortable around kids that aren't "mine" as in, in my family or my circle of friends. So this is pretty huge for me.
Tuesday was our first practice and it became apparent RIGHT AWAY that I'm definitely going to be challenged physically, just as I'd hoped. Part of me says, "What were you thinking??" Careful what you wish for, right?? I thought I had built up some stamina but the first time we started running on the field, I couldn't even make it one length and I hurt my knee! It actually pissed me off to be entirely honest. I mean, here I've been training and I couldn't even run as long as I have been able to EVERY other time I've set out to run? What the hell? Maybe it's because the kids set the pace and clearly my "wogging" can't keep up? I don't know, but the anger (and embarrassment) is there. And because I couldn't keep up, there's also now this stupid fear that I WON'T be able to. I hated that as I "ran" past the parents sitting in their cars, I was struggling so much...I'm sure they were thinking, "Oh, look at this chick thinking she can keep up..." In my mind, I think, "Shut up - at least I'm out here." Then the insecure chick inside me hates that they are probably judging me. Thinking about it makes me anxious so I keep trying to put it out of my head and think about other things.
I keep repeating this to myself: No matter; I'm going to conquer this. I'm stronger than my fear. I want to challenge myself. I want to step out of my comfort zone. I want to continue to work on being a strong person physically and mentally.
So tonight, I'm going to try again. Wish me luck.