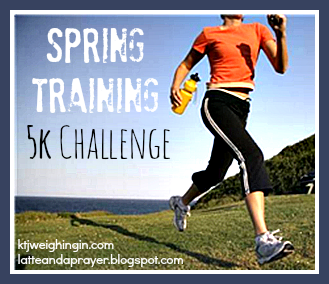 So remember how proud I was of myself last week for being able to complete the first week of my C25K training? You may recall that I thought I was pretty hot stuff by being able to run for 60 seconds at a time, even adding in a bunch of extra runs after the workout was complete (It starts out at only 30 minutes and I went for 60)...In my mind I became a marathon runner last week...oh, yes, folks it finally happened.
Enter Week TWO: In week two the app adds in an additional 30 seconds to each run...sounds pretty easy right?? Psshhhh...Hell yes, it's easy if you're a runner like me!
Um, yah, well...it's NOT. It's freaking hard! Reality kicked in. What's THIRTY seconds you ask? It's 30 seconds of pure HELL waiting for that voice on your phone to trill her little bell and say, "Start Walking."
At one point my heart rate got up to 174 and I was like "Are you kidding me?? It's been an HOURRRRRRRRRR...Oh, please dear GOD, how much longer before she tells me to walk???? I think I'm gonna die right here on the road, and who will find me?? I'll just be a lump that someone will stumble upon and how will they let my dear, sweet husband know that he's just lost the love of his life??? Will the person who finds me look at my phone and search my contacts for the fancy 'In Case of Emergency (ICE)' contact that the Internet told me to put there for just this purpose?? Will C25K Week 2 really be the death of me??? I just KNEW running was the root of all EVIL...I didn't think I'd go out this way...please, someone, tell my family I love them..."
And then I heard it...her sweet, sweet voice..."Start Walking..."
It was like a cheer went up - applause erupted everywhere!!! Of course, in reality it was my heartbeat pounding in my head and my hot, sexy rhythmic hacking breath...but it sounded like applause to me.
But let me tell you what I did...when the next 2 minutes passed and her little bell went off and she cheerily said, "Begin Running"...I did...and I did it again...and again...and again. I bet you want me to tell you that it got easier? Nope, it didn't but I did it and that's what matters, right?
Week 2 completed - Boom. Yah, I said Boom.
Sooo, I just checked out the workout plan for Week 3...guess what Week 3 holds? A 3-minute running session - WTH???!! What happened to 2 minutes?? We go straight from 90 seconds to 3 minutes??? Lord, help me.