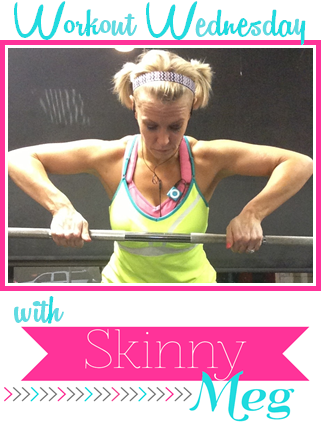 Hello there! It's time for Workout Wednesday with my girl Skinny Meg! I love this linkup because I get so many great workout ideas to try!
This week, I've been really good about keeping track for you and even taking lovely sweaty pics to share - lucky, lucky you!
Wednesday - We headed to a great local park that has an actual rock/paved track and this cool station where you can do other exercises like situps and pullups and such. We hit the trail a couple times around and then headed back to kick some trees....yes, you read me right. What follows is the conversation I had with my Hubs (who won't even let us have a real Christmas tree because he can't stomach the thought of 'killing a tree'...) when he called me during..."You're kicking trees!????" "Hell yah, you gotta problem with that??" "Um, hayuhhhh...that's a crime against nature!!!" Okay, so we didn't actually kick any trees...but we did tap some sweet tree ass.
This is a really great workout for your backside, flanky area, legs and abs. Basically what you do is balance on one foot (like you would for a side kick in combat or kickboxing) and with the other, tap the tree (or solid object) continuously for one minute. Then switch sides...and, daaaannng...you're gonna be sore. I love this!
Thursday - I decided to try
Fitness Blender
- everyone's been talking about it and it was super rainy and yucky outside so I headed home to try it out. I have to say, this might be one of my favorite new workouts. It's free and they have great videos where you can choose a body part to focus on or just do a full body workout. I ended up trying three of them (cardio, abs, butt) for a great 50+ minute workout. And let me tell you, I was sweat balls after only 10 minutes.


Reeeeeeeeeeeaccccccccccchhhhhhhh!
Saturday - This is the workout I'm MOST excited about - I ran 5 miles! I cannot express to you how much this run meant to me. After not being able to run my entire 5k, I was kind of defeated so I set out on Saturday just to redeem myself. I didn't have a plan to run a specific amount of miles, I just wanted to get out there. What I really wanted to do was prove to myself that my 5k performance was a fluke. I had run the same distance before many times but that dang 5k was haunting me! So out I set to just do what I could. The weather was perfect: overcast and cool and I just went for it. I was feeling really great and decided that I would try to push myself a little - when I got to 3.1, I decided 4 would be great...then when I got to 4, I was like why not just go for 5?? So I did! I was so pumped, you have no idea - when I hit 5 miles, I just stopped...I could have kept going, but I didn't need to...I laughed though because I honestly squealed my excitement in the street. I don't even give a rat's ass if anyone saw me.
I am seriously loving this running thing. Even though on Saturday night, I was pretty sore - I'm old! But, it was so worth it.
Yah, Baby!
Monday - I was ready for some weights and it was Hubs and my anniversary so I didn't want to be at the gym for a long time. I did 150 weighted bar squats, 75 Russian Twists, 100 Jumping Jacks and front jacks, 100 crunches, side crunches, two :30 planks, handweight fly's, and lunges with handweights. I was getting ready to leave when Hubs called me to tell me to stay put because there was a Tornado Warning in effect. Now, even though I love Hubs with all my heart and was excited to get home to see him, I never mind being at the gym, so I jumped onto the Stairmaster to sweat some more and wait the storm out.
Excuse the fuzzy - hard to take a pic while you're climbing moving stairs...but check out my lovely sweat pool...heh heh...why does it feel awesome when it's your own sweat but gag-worthy if you came across someone else's sweaty nastiness?
Tuesday - More Fitness Blender! This time I enlisted my running buddy and sweat our asses off for 38 minutes and I burned 338 calories in that short amount of time!
I need to remember that not all workouts have to be a certain amount of time - you can still get a really great workout, if it's the right workout, in a shorter time.
So, that's my week! I'm headed to the National Harbor in Maryland for our University's Commencement Ceremonies for the next 3 days. I have my workouts already planned so even though it's going to be super busy, my plan is to get out there and sweat a little before my days begin.
Check out this week's healthy recipe - Monterey Chicken - SOO yum!!