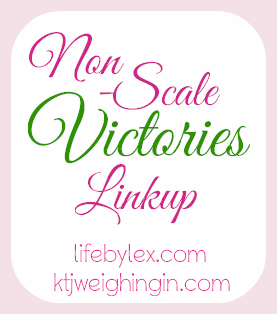 Hello!! It's time for my favorite post of the week - Non-Scale Victories! Time to celebrate all of the little things we do that are NOT scale related but are still just as important to our health.
I missed last week's linkup because things are just crazy around here, and you'd think that would mean that I have two weeks worth of NSVs to brag about...you'd THINK that but you would be wrong, ha!
It's not that I've not done anything to be victorious about, it's just that I feel like I'm gonna say the same things. Oh, well, I'm going to list them anyway:
I just completed 397 days straight of logging food into My Fitness Pal (hit me up:

jennlefebvre08

)

Even though I was sore from running said 5K (hazy, hot, miserable and downright blech!!), I have continued to workout and I was able to run yesterday for a mile and felt really great!

This one is interesting to me: I've made a conscious effort to eat less carbs this week and last night when I checked MFP for my week, I've been able to stay at about 35% carbs...my normal weeks are about 45%...so I've dropped about 10% in carbs this week

Which made me wonder about this so I had to check: I have only had ONE bagel in the past 13 days - hawhaaaaa??? That's crazy!! Man, I love me a freaking bagel - Icouldeatoneeverysingleday.

I'm continuing to try new workouts and tonight I'm going to check out

Fitness Blender

- anyone else using this? A fun workout I did last night with some friends was kicking trees...don't worry, no trees were harmed in our quest for fitness. I'll be posting about it next week on Workout Wednesday with Skinny Meg. Basically, what I'm getting at is that I'm really digging finding new ways to workout in addition to my traditional cardio routines. I LOVE mixing it up!

I'm also continuing to add more and more weights to my workouts - I want to be strong!

This coming Monday, the Hubs and I will celebrate 18 years of marital bliss and it's been 18 years since I was this size. I gained 10lbs on my honeymoon and never looked back for 16 years! You can bet your sweet buns I'll be trying on my wedding dress this weekend.
So there you have it - what were YOUR NSV's this week?