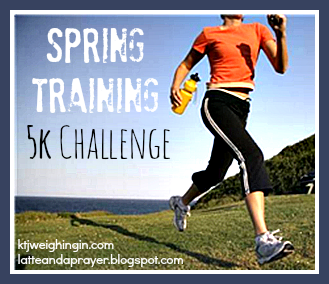 Wow...it's our last official linkup before the big day!! I can't believe that June 1st will be here so soon!
I remember thinking that I had so much time to train and yet, here we are - 5K day is on SATURDAY! I am so mixed with emotions, going back and forth between being excited and scared s*&%less...for the next few nights, I'm hoping I don't think about it because every time I do, my stomach does flip flops and my heart races a bit.
I know that I am ready...I've trained so hard to do this...I just wonder how I'll actually be on Race Day. Everyone who has done this before says that Race Day is fun and exciting and that I'm stressing for nothing - I am completely banking on that being true! I also hope that I'm hooked on 5K's after Saturday because I honestly have truly enjoyed becoming a runner. I love that I get to say that I'm a runner.
The time has come to wish all of my 5K Linkup friends all the luck in the world! I have greatly enjoyed this journey to the big day with you all - you have inspired me and kept me going the entire time and I'm so blessed to have "met" so many supportive people! We can do this!!
I can't wait to report (and read all of your posts!!) about Saturday's race!