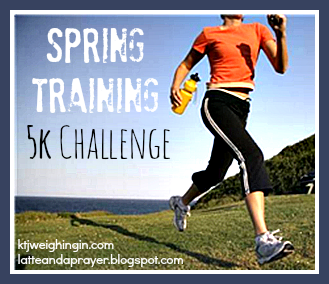 Hiya! It's time for our Spring Training Linkup with Katie and Kim!
Whelp, now we are LESS than TWO weeks away from race day - GAH!
Last week I was freaking out a little, I'm a little better now, but I still get all butterflyish when I think about it. I can't believe how close it is! I'm still a little nervous that the entire course is on grass - I really, REALLY hope they mow it down as low as they can for us, but I'll have to prepare myself if that's not the case. I haven't been back to run the course, but I have been training a lot this last week and I'm feeling confident that I'll be able to do the entire thing running (...she says over and over and over to herself...)
I have worked in sprints twice this week, including one extremely, horribly HOT and I mean H.A.W.T day...it was just awful and I had to stop, I couldn't do the whole thing and it made me so mad! I got angry hot...like, um, mean. Apparently, this gal is a much nicer runner/person when she has a nice cool breeze blowing on her...'cuz the 91 degree heat unleashed this angry bitchy chick and she wasn't pretty...
I ran 10.54 miles in the last week. Wow, I just added that up and I'm pretty impressed with myself! That equates to three runs, so I'm averaging 3.5miles a run. Two of the runs, I was able to do the whole thing. Those are the ones that are making me feel better about the race. I've run a few full 5ks since I've been training but these newest ones are making me more confident about the fact that the race is A. Week. From. Saturday.
If anyone is interested, I found this article online about how to get ready right before the race and it was pretty interesting to read:
Oh, and this made me laugh so I had to share:
Google Images
And today is my honey's birthday - Love him!