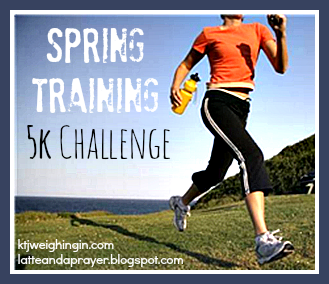 Time for this week's Spring Training 5K Challenge with Katie and Kim!
Wow...what a difference a week makes! You may recall that last week's Week 4 of C25K required me to run for two 5-minute sessions - I'm happy to say that I completed Week 4 and I'm here to report about it!
But guess what I did this weekend?? My race buddy challenged me and instead of running when someone else told me to, she said to try to just run until I just had to stop. In other words, don't look at my heart rate monitor, don't listen for my the nice C25K lady to say, "Begin walking", just run until I can't do it anymore and let's see where we get! I have to admit, I was scared. She had just run excitedly to my house not a few hours before to say that she ran a whole mile without stopping. This is the same girl who hates working out, and has never even WALKED a 5K let alone run one. How in the world was I going to do this?? I almost wanted to cry from the challenge to tell you the truth. Here I was moving on to Week 5 in my training and I hadn't even run longer than 5 minutes straight...and THAT was hard! I didn't even think about how long it would take me to run one mile. The thing about my race buddy is that she is SO supportive...she's been supportive throughout my whole entire journey...and she was willing for me to set the pace, and we'd do whatever I could do; no pressure for me to keep up with her (clearly she was the expert having just run it!).
So, we set out...and I started wogging...and then I kept on wogging...and wogging...
I didn't look at my monitor, I didn't listen for the nice lady, I just found a comfortable pace and I ran. I felt so good! I didn't feel like I needed to stop and even when I hit a little incline, I slowed my pace (*cough cough* if you can call it a pace...) and kept on going. My buddy said to me at one point, "How are you doing? You good??" I can only grunt and make guttural noises when I wog, so I grunted an affirmative. As we rounded a bit in our track, my buddy said, "Let's just go to this stop sign up here and then we'll stop....how are you feeling? You feeling good?" Another grunt from me. Then she said, "Jenn, I can't wait for you to see where you are when you finish....you are going to be so happy with yourself." Well, that just made me want to get to that damn stop sign!! SO, I did...I got to the stop sign...and then she said, "LOOK at your phone!! See how far you went!!!" SO, I looked...and wouldn't you know, the dang phone said that I had run .9 miles in 11mins 30secs...?!? What??!!! Then my buddy said, "A mile would just be up this little hill...you almost ran a MILE!" In truth, I don't feel like I could have run up the little hill, even as excited as I was to have run as far as I did...I was dying by the time I got to the stop sign! But still - the feeling was amazing...and my buddy, she was so proud of me!
So of course when you've accomplished something so huge, you want more, right? Last night, I set out to do the exact same thing as well as add a little bit more of a challenge. Strangely, I couldn't do the whole first .9 miles like I did on Saturday - I'm wondering if any of my blog friends know if that's normal? I just couldn't catch my breath and it was HARD. However, I did run/walk for a total of 4.2miles....and at the end of it I received this from my handy Nike+Running App...it feels sorta like a little medal of honor:
So my goal for this week: I'm going to get to 1 mile - I can just taste it!
How did my fellow Spring Challenge buddies do this week?
Be sure to stop by my recipe blog, A Healthy Makeover, and follow me there, too! Yesterday's recipe is below:
Thanks for stopping by!