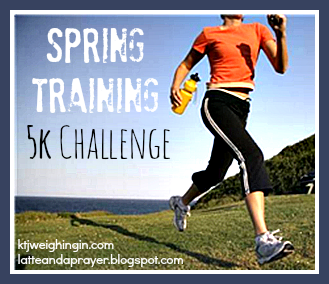 Hi everyone,
This seems an obviously fitting time to say how sad I am for the folks of Boston and those lives that were lost. What a terrible, horrible thing to have happened at a such a wonderful event. The timing, the cowardice of those who are responsible - it just breaks my heart. My thoughts and prayers are with the families of those lost and with the people of that great city.
With that, I'm dedicating today's 5K Linkup post to them. Last night when I ran, I ran for those spectators and the marathon runners and everyone involved. I left my house with tears in my eyes and as I walked and ran, I did it with sadness in my heart but as a tribute to them. Through strength and coming together good things will rise, I believe that truly.
This past weekend was a big one for me.
I have some huge news to share and I'm just going to get right into it. I ran my own 5K. I did it, I did it, I really, really did it!!
I started out with the plan to just try to get to two miles since last week I was able to complete 1.6 miles. So my buddy and I did our thing and we were running along and then we decided to take a different route through this quarry area near our houses. Well, it lead us back into a different part of our neighborhood which was kind of cool because we tend to stick to a set area. And when I looked at my Runkeeper, I realized that all of a sudden, we had hit 2 miles - of course, I was very excited about that and we even high-fived! Technically, I could have stopped there, right?? But it was on a decline and I thought to myself "Why stop now when I'm running downhill?? That's my favorite kind of running!" So, we kept running and had a plan to stop at a point that would have brought us to about 2.5 miles. But that put us at the bottom of a hill so we went the opposite way and by that point we had to go back through that quarry. I just kept saying to myself, "Um, you planned to TRY to get to 2 miles and look at you, you're almost at 3 miles now - DON'T stop! You could freaking ass do this, Jenn!!" So, I did it...we got back to my house and I had run 3.35 miles in 49:35.
It was pretty awesome.
A cool part about it was that I didn't even feel like I NEEDED to stop while we were out! I even ran a little faster than I have been averaging - I guess I was just so excited??
But the greatest part??? When I was much heavier - and back then my thinking about running was that it was the stupidest thing EVER - I used to have these very vivid dreams of just running. Not running FROM anything or TO anywhere, just running and loving it. Very Forrest Gump-y, right? That's the feeling that I felt on Saturday...an honest-to-goodness dream come true...I was runn-ing.
And it was amazing. Today, I'm proud to say, "I'm a runner."