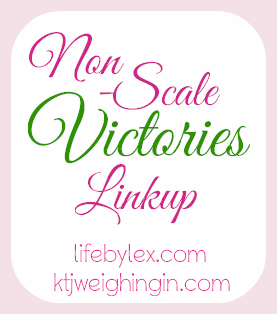 It's my favorite post of the week! Let's talk about our Non-Scale Victories; those little triumphs we achieve throughout the week that don't have anything to do with that darn scale!
My victories are actually kind of silly, this week - but I want to share them anyway.
It seems we went from Winter to Summer and no Spring in between here in the Mid-Atlantic. A few weeks ago, I was wearing earmuffs and gloves to run and now I am trying to wear as little as possible to avoid dying of heat, while also trying to save the public's eyes from burning when they see me...it's a very fine line.
Anyway, with the warm weather, comes open-toed shoes and sandals. One of my victories this week was slipping on a pair of strappy sandals that were always a bit tight on me and this year, they were loose even on the last little hole! In fact - and I'm not so sure how I feel about this because I have some amazing shoes (my collection is over 100 pairs!) - ALL of my shoes are now too big, boo...I've gone from a size 7 to 6.5! I started noticing this a few months ago because my shoes kept flipping off my heel. I guess that means going out to buy some new ones, but who has the budget for that?? Well, I'll figure out a way, don't you worry about that.
Another victory was having a few of my neighbors cheer me on while I ran by them. I know that's so little, but it felt really, really good! And it felt even better to smile and wave at them all casual-like vs. choke on my own breath and hope they don't notice that I barely had the strength to carry my iPhone, let alone lift my 2,000lb dead weight of an arm in an attempt to acknowledge them.
And finally, the silliest victory came early in the week when my running buddy complimented me on my...ahem...booty. Yup, my butt - I don't know why, but that was probably my favorite little victory this week because I don't have many admirable body parts but that's one I know I can work on. Annnnddd, since obviously someone other than my hubby was looking at it, I figured I better ramp those workouts up gotta get firming it up! So I did lotsa badonk exercises this week and this booty is sore!
What were your NSV's this week???
Don't forget to check out today's recipe at A Healthy Makeover! Stuffed Spaghetti Squash, yum!!