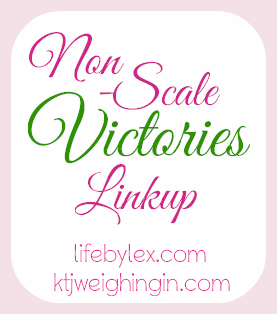 It's Thursday which means it is NSV Thursday in my world! This week, I did exactly what I said I was going to do last week and I wrote my NSV's down as they happened. I feel like that could be my first NSV this week :)
Last Friday, I was having one of those uncontrollable days, and it was one of those days where I knew exactly what I was doing, I just didn't care. Not in a bad way that I couldn't recover from, but an honest to goodness "I Honestly Don't Care" day. I think I needed it. There were cookies...glorious cookies...and by golly, I was gonna have some...or 10. Of course, that's not my NSV! That came in when I sat down at the end of the day to get caught up on all of my blog friend's posts. Unless you have struggled with your weight on the same level that I have/am, you cannot imagine the support that you really need from people who just GET IT. My blog friends get it. Reading these blogs is SO inspirational. The amazing strength that each of them harbors, as well as the inspiration they give to me every day, is one of the many things that keep me going. So instead of continuing to have my "I don't care" attitude that day, I read those blogs and they MADE me care about how I ended my day in control, which is exactly what I did. Thanks, Blog Buddies!!
This next NSV is a little bit funny, but again, unless you've never experienced it, you probably don't understand the joy it brings to find you actually have one...I'm talking about "My Lap." As in, I found out that I have A LAP. I figured it out when I was sitting in the car on a work trip and I was able to eat out of it, like a normal person...as in I could sit stuff on it without my tummy being in the way, and my breakfast didn't slide off the front it, or using it didn't give me leg cramps as I was trying to hold them together. I really don't know how I can expound upon this one any more, but this is a huge NSV for me!
We were out of town this past weekend and there is a great little restaurant/bakery in the little village we stayed in and everything they have there is amazing. I could have made a really healthy decision for breakfast and had egg whites, but as I stated at the beginning of my journey, I don't want to NOT experience things along the way and sometimes that may mean food choices. I'm eating like I want to eat for the rest of my life, I'm on a lifetime journey, which means if an opportunity presents itself, I want to have a "normal" moment and enjoy it. Enter: Banana Bread French Toast with Blueberry Compote and Lemon Whipped Cream. Three words: Totally Worth It. Now, my NSV is that I didn't eat much for the rest of the day, then I got my butt home and worked it out like crazy to make up for it :) Give and take...I'm totally willing to GIVE some blood, sweat and tears to TAKE bites of delicious goodness such as these along the way!
My last NSV is that I started running using the C25K app on my phone. I'm happy to report that I not only ran every time that little voice told me to, but I also added 3 additional runs in at the end. Of course, "running" is probably a loose term, but I have these little stubby legs that right now can only run at about 4.5 mph. I'm working on it, though! Do any of you ever have running dreams? I'm talking about dreams in which I am running like I'm an actual runner. I run all over the place and never get tired!? My aspirations are not to become a runner, but I really want to be able to run a bit of a distance...like maybe some day I'll be able to run a whole mile all at once!!
I hope all of you had a some noteworthy NSV's this week and remember that no matter how small your victory is, it is still a victory!