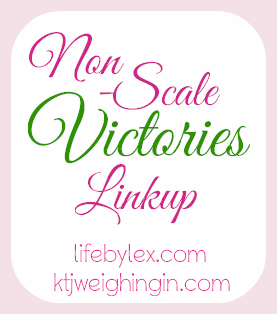 Where did this week go? Is it possible for a week to go slowly and fast at the same time?? And we still have one more day to get through!
My non-scale victories list for this week is pretty short; I must remember to write these little things down as I think of them.
I went a teensy bit overboard last weekend; not too crazy but I decided not to stress and try to relax in regard to eating...I'm trying to do that more - it's HARD! Anyway, since I did enjoy more than I normally do, I worked out every day. I normally try to take a rest day in between but I did some good cardio burning every single day including Saturday and Sunday. I tried the 30 Day Shred and can I just say, "Owwww!" It was such a good workout! Also, my gym buddy even had me try some crazy treadmill moves which, BTDubs, is not easy for me as I am one of the clumsiest peeps I know. I was a little nervous, but with some hidden ninja-like moves and perhaps a little new found core strength, I did not trip or fall off said treadmill - yay!
The one NSV that actually stuck out in my mind is that I forced myself to go to bed early a few nights in the past week JUST so that I didn't eat everything I wanted to...and boy did I want to! I hate when I have that feeling: that uncontrollable-nothing-will-satisfy-me urge...you know what I'm talking about?
I've also been trying to ween myself off of the sugar I put into my coffee and for the past two weeks, I've been able to have my favorite morning iced latte with just unsweetened vanilla almond milk and my liquid stevia drops. I'm happy to report that I've finally discovered my perfect combination of flavor deliciousness! It's honestly the favorite part of my work morning...it literally makes me happy just thinking about it!
That's all I have to report for this week! I hope all of you had some great NSV's, too!