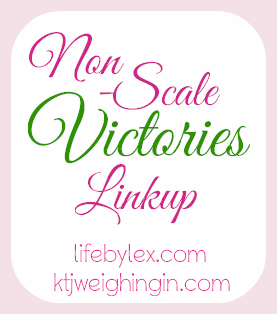 Hello everyone!
Welcome, and let's get right to celebrating our Non-Scale Victories with
Katie
and
Ashlee
!
Sometimes I feel like I say the same things, and I probably do, but honestly my days are pretty much spent the same way: meal planning, working out, homework, resisting delicious temptations (seems like every minute of every day!), posting dumb pics on Instagram (don't forget to follow me so you can see how dorky I am! @jennlefebvre), and more working out. In truth, I'm here to tell you that if you want to live a healthy life, this is how you do it...plug along as best you can and try every day.
Even though some of these are the same, I'd still like to share!
My first NSV: I'm still reeling from my doctors visit last week. And even though we're celebrating NON-scale victories, I still feel like it's my birthday since arriving in
Onederland
...I cannot tell you how many people have written me with the most beautiful words and that have reached out to me to ask if I will be their healthy buddy...what that means to me goes beyond words. I started this little blog as just a way to share some healthy recipes...I had HOPED that those recipes would assist ME in my goals: eat them and lose weight. And here I am with two blogs now, living the healthy life I have always wanted and with the most amazing support system of fabulous women on their own journeys and enthusiastic cheerleaders you could ever imagine. I couldn't do this without you all!
My next NSV: Getting the Hubs out on a bike! So far we've been on two rides and I am loving having him come along. I want him to love working out as much as I do, but he has a physical job so he's basically working out all day. I sit on my butt all day and want to go, go, go when I get home and he's already exhausted from the day. He's been such a great sport to come along with me!
My last NSV: NEW CLOTHES in smaller sizes! I'd been dreading winter because I have NO long pants...I've been living in capris all Summer...I don't know why, but I STILL hate shopping for clothes and I cringe when I go into the fitting rooms. I was pleasantly surprised at what I fit into and am really happy with the new stuff I bought.
That's about it for this week! Hope everyone has some great NSVs of their own - remember to count them ALL and be proud of your efforts!