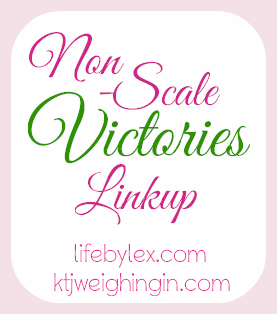 Happy Thursday, Lovelies!
I feel like I've been MIA, and I guess I actually have but things have been so busy around here! My mom and niece came for a quick visit and it was so good to have them here. I hate it when I have to say goodbye to them but we had a great time while they were here and basically didn't stop the entire 5 days!
I feel like I haven't been keeping up with my blog buddies and I hope you all know that I'm still here routing for you and I promise I'll get caught up this weekend!
My first NSV is that I was able to really stay on track while my mom was here. We just love to eat but even though I did eat more than I normally would, I got my workouts in and didn't too badly at all. We even went to the fair and I thought this was pretty interesting...there were SO many things there that I used to LOVE to eat. I even got some of them...but as I was eating them, they just didn't taste all that great to me! I don't know if it's because it just wasn't good food, or that my tastes have changed? I'm going to chalk it up to both, but also add in that I have gotten to the point that I refuse to waste my calories on bad food. It has GOT to be worth it to me and that food just wasn't. My next NSV was a compliment from my mom...we were shopping and I went down an aisle and as I came back out of it, she was standing there sort of glancing at me, and all of a sudden she got this big old grin on her face and said, "My goodness Honey, I just didn't even recognize you! I keep looking for the old you!" That meant a lot to me because my mom has been a huge supporter of me but also somewhat of a critic in a way. And while my mom never meant to be mean, we had lots of conversations in the past about how some of the things she said used to hurt me. Things like, "You know, I'd love to have you around for a long time and I worry about you...I just want you to take care of yourself." Or when I'd try yet another fad diet, she'd say, "That's great! I'm so proud of you! I hope you can stick to it this time!" See? Not exactly mean, but when you're sensitive, that can be taken the wrong way. While she was here, I ran a lot and every time I'd get home she'd be waiting and tell me how proud of me she is and that means the world to me.
My beautiful niece, me and a rainbow
My mama, me and two cutie pies...
Some exciting news to share: I signed up for my next race!! I told you all how I was training for the
Blood & Guts Run
in October and now, it's officially official! I think because it's so far away my excitement overshadows my nervousness but I know as time gets closer, I'm gonna be a mess! I've always said that I started to run just so that someday, if the Apocalypse came, I'd be ready...well, here's my test run! Basically, it's a 5K with Zombies chasing you, shooting fake blood and with obstacles thrown in. According to the website the obstacles include: a blood and guts pit, climbing walls, tire gauntlet, hay bale pyramid, pumpkin guts pit, steeplechase, cargo nets, a mudslide and many more! The many more part is what worries me...haha!
One thing I want to try to work on in my new life is being more confident in my own decisions. I was recently told about something called
The Imposter Phenomenon
and it really hit home when I read the description. This is me. TO. A. TEE. Basically, there are three attributes to this:
•The sense of having fooled other people into overestimating their ability
•The attribution of success to some factor other than intelligence or ability
•The fear of being exposed as a fraud
This really hits home. And it goes back to my overall feeling of insecurity. I do this at work a lot. And in my healthy journey, I go from feeling very proud of my weight loss/healthy success to hearing about others' success and then second-guessing what I'm doing. Am I the only one who does this??? Sometimes it can totally ruin my day. I have got to get better about this. I need to remember:
OR that:
I am doing what is right for ME and it's going to take some trial and error but I have to remember that I cannot compare myself to anyone else.