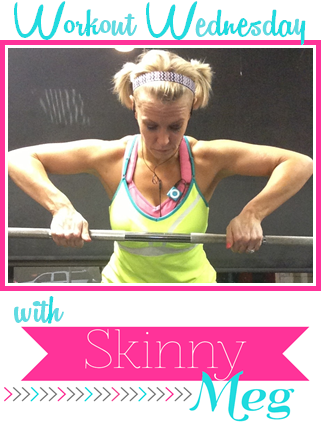 Hey Heyyy! It's time for Workout Wednesday with Skinny Meg!
The past week seems like such a blur and I know exactly what I can attribute it to: morning workouts. Now, if you don't know me, let me tell you a little bit about myself...I'm not a set-my-alarm-and-workout kind of girl. I love my workouts but I will do them in the afternoon and that's been fine for 20 months into my journey...thankyouverymuch.
But something clicked last week; I woke up early and couldn't go back to sleep so I decided to lace up and run. And I fell in love. After my workout, I just felt amazing. I began to think about the potential possibilities of the things I could do after work since I had already gotten my run in...This morning workout shizz? I'm digging it. I know, I know, I'm SOOO late to the party, but better late than never, right?
So, back to my blurry week...
Friday
I ran 2.7 miles (38:50)
Saturday
I finally made it back to Zumba after 2 months!! It's my first love and is probably responsible for 1/2 of my weight loss - I've missed it but I've been trying to get in as many runs as I can so it felt great to be back! I followed it up with a sesh on the treadmill for 2 miles of sprints/jogging intervals.
Monday - (this one was earlllllllyyyy...4:50am!! Um, in case you were wondering, even in the Summertime, 4:50am is dark!)

I ran 3.51 miles (51:18)...and sweat my mother-lovin arse off!! It was 72° and HUMID...look, proof:
Pretty sweat bib...
...and THEN, I went to the gym after work for a MoveStrong session. This week we worked on a lot of arms and core. This is also when I hurt myself getting off the parallel bars...hubby said, "Everyone knows the routine's not over until you nail the dismount." Yah, all my dismount consisted of was a buckled elbow, subsequent jamming of my shoulder and thumb, and finally, a punch to my own head. #graceful
My whiny Instagram Selfie...
Tuesday
- A few of my friends and I hired a certified Crossfit trainer to work us and get ready for our
Blood & Guts
run in the Fall. PS: This would
not
have been my first choice for an obstacle run...I'm more of a Flowers & Butterflies kind of girl. Anywhooo, I couldn't wait to get started and I was even more excited after I met her. She's wonderful! She was knowledgeable and made sure we were always using proper form and most importantly, she was positively encouraging...no Jillian Micheals here, you get me? Flowers & Butterflies...flowers & butterflies. Our work out consisted of a 7/10 mile run, then back to do 40 overhead weighted walking lunges, 20 bear crawls (hated to love these), 20 jump squats, then 10 push ups...and in between each we ran 200m...then we did it all over again and ended with another 7/10 mile run and stretching. I cannot wait to go back next week!
Wednesday (Today!) - I ran 3.02 miles (43:48). This morning was PAINFUL...it might not have been if I had gone to bed at a decent time. But I didn't...I went to bed at midnight and woke up and 3:30am in pain from my jammed thumb and shoulder and couldn't get back to sleep until 4:30. I literally rolled out of bed at 5:30 and threw my clothes on and did it. It was absolutely the last thing I wanted to do this morning so that's why I did it. Although I feel exhausted...I am so super proud of myself for not ignoring the alarm and getting my ass out the door. I'm winning, y'all.
Hilly + 4 hours of sleep but I was out there!
Don't forget to check out this week's recipe at
A Healthy Makeover
! If you're looking for a dish to bring to tomorrow's 4th of July BBQ, this is the one!!
Corn & Black Bean Salad
- Always a hit!! Happy and safe 4th to you!!