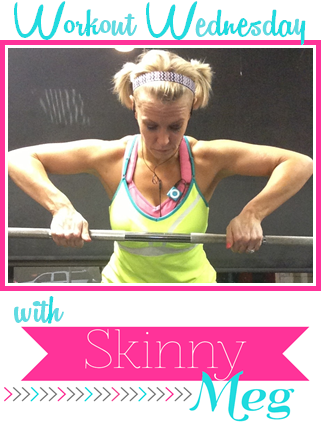 Hello! This is the first time I'm linking up with
Skinny Meg
for Workout Wednesday and I'm pumped! She is SUCH an inspiration to so many and especially to me.
Most every week for the past 10 weeks my workouts have kept me busy training for my first 5K on Saturday...I'm so nervous but at this point, I'm using a favorite quote: I'm kissing it and sending it to heaven...not much I can do at this point, right? Well, except quit, but um, yah, I'm no freakin' quitter. My goal is to complete the entire thing running. I've done it many times during training so I'm hoping that Race Day will be no different. The only thing that's making me nervous is that the race is in grass, which I'm not used to...guess I'll figure it out!
For the past few days, I've been resting a calf injury but I'm sure it will be better by Saturday and the good news is that I've been able to spend more time lifting and working on strength exercises. I like to incorporate hand weights and bar work when I can. Right now, it's still very new to me and I'm hoping that I'm using proper form...thank goodness for YouTube and Google, eh??
Here's a little list of my mixed-up weekly routine:
Monday - Cardio: Running (outside as much as I can when it's not raining) - 1 hour

Tuesday - Toning: Push ups, bridges, triceps dips, burpees, squats, lunges jump squats, Superman, planks, crunches, dumbbell arms & abs stuff (side bends, twists, cross body knee lifts, squat twists...please do not quote me on any of the names I just gave these as I have no idea what they are truly called - I only know they kicked my abs...) This usually takes me about 45 minutes

Wednesday - Cardio: Sprints - 1 hour

Thursday - Toning: See above

Friday - Light cardio and toning

Saturday - Cardio: Running or Zumba

Sunday - I try to rest, but it's hard so it's either yard work or light cardio
I'm hoping to meet lots of inspirational folks through the linkup and learn about how other people are making their way along this journey!
If you get a chance, check out my recipe blog, too - A Healthy Makeover & a new recipe post today: